Back in 2016, North Carolina-based tuner MegaRexx made a lot of noise when it created the MegaRaptor, a highly modified Ford Super Duty pickup truck ideal for the apocalypse or at least the most extreme expeditions with its 46 tires. inches.
Six years later, here he is again with the MegaBronc! It's the answer for new Ford Bronco enthusiasts who want to haul six of their friends and tow really heavy loads.
As you can see in the pictures, this oversized seven-seater truck makes the Bronco look like a dwarf. Sheltered by extra-wide fenders, 40-inch tires designed for muddy terrain are installed to create more clearance under the Dana 60 differentials in off-road riding.
Although the suspension is also improved with a number of specialized parts, it does not raise the vehicle too much in order to keep the center of gravity at a reasonable height (at least that is the explanation of MegaRexx). Obviously, its travel is increased to better absorb blows, while the tracks are widened to provide more stability when driving.
The heart of the MegaBronc is the Ford F-250's 6.7-liter Power Stroke V8, which generates 475 horsepower and an unmatched 1,050 lb-ft of torque. It's mated to a 10-speed automatic transmission, but its towing capacity, which can normally reach 22,800 pounds, isn't specified here.
The hood, front fenders and body walls are made of fiberglass, as is the fully removable roof. The custom-created grille is flanked on either side by the Bronco's LED headlights. Lower down, the new bumper incorporates a 20-inch light bar.
Among other changes, the Super Crew cabin features new perforated black leather seats. Those in the second row are identical to the front buckets, while the power-folding third-row seats come from a Ford Expedition.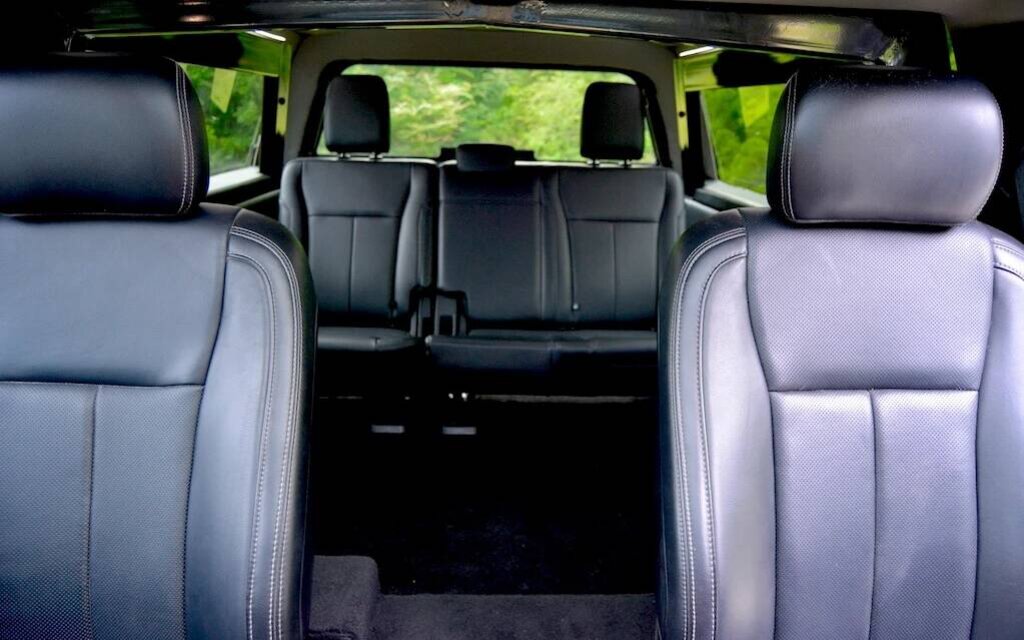 So how much for the MegaBronc? Pricing is set at US$224,950, equivalent to C$282,000. Delivery on site or to your home is possible. We dare not imagine the bills at the pump!
In video: The Car Guide puts the 2022 Ford Bronco to the test

#MegaBronc #cross #Ford #Bronco #F250