In March 2022, Harris Interactive carried out, on behalf of the new multi-brand label Spoticar from Stellantis, a study on the opinion of the French about used vehicles. Overall, motorists see this market in a positive light and are even tempted to take an interest in it.
A dynamic and well perceived market
61 is the percentage of French people who believe that the second-hand market is rather developing, according to a Harris Interactive study*. Indeed, the market for second-hand vehicles increasingly reflects a dynamic image in the eyes of French motorists. This is why 87% of those questioned consider that it offers a wide choice of vehicles in terms of brands, models and prices. Moreover, 84% of them believe that they can also find great diversity in terms of the age and mileage of the vehicles on offer.
For more than 7 out of 10 French people, the second-hand sector offers an offer equivalent to that of new vehicles, both in terms of range of services and in terms of vehicle quality.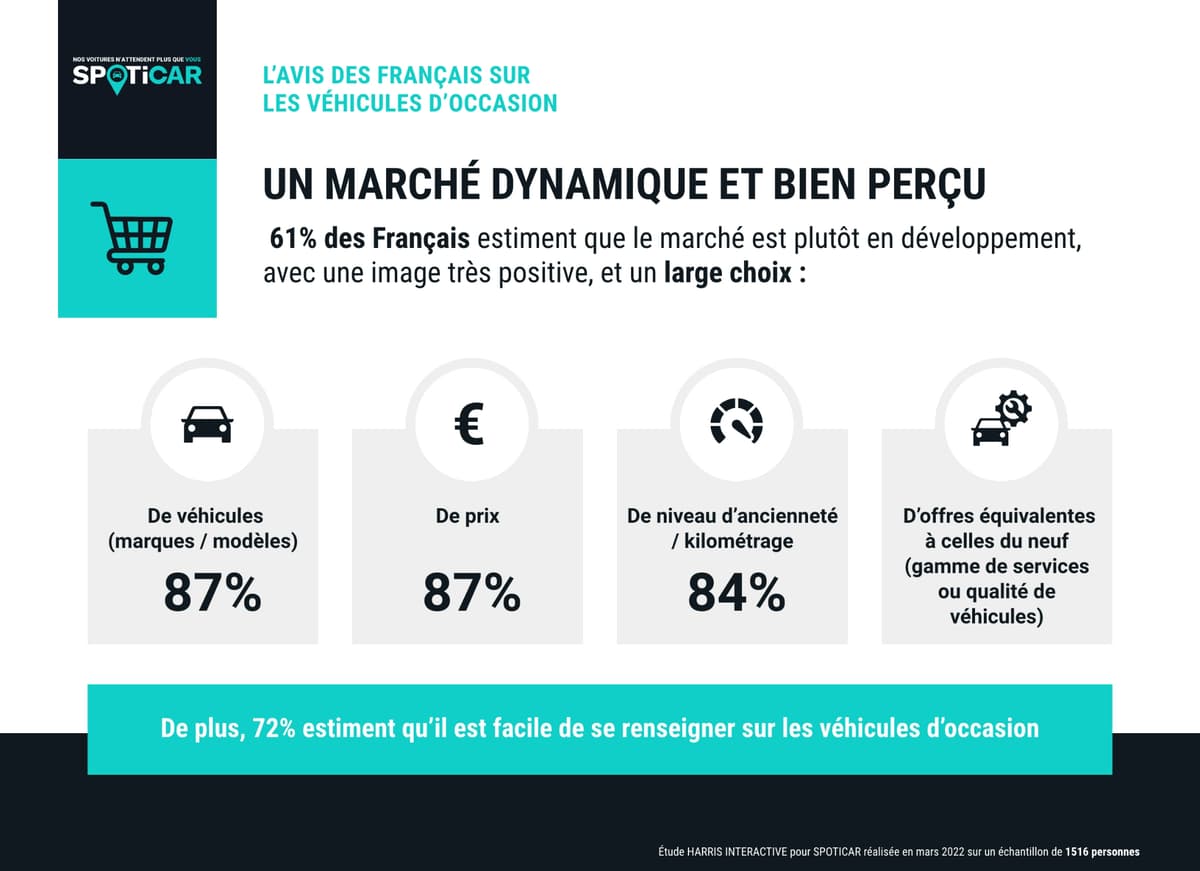 Professionals more credible than individuals
To date, French motorists mainly distinguish between two major players: individuals and professionals. If they estimate that the second-hand market is carried to 50% by the private individuals, it is however followed very closely by the professionals (49%). It is also the latter that are popular with French buyers. In fact, 68% of them would place their trust more in automotive sector professionals affiliated with a manufacturer (dealer/garage), and offering new or used vehicles, rather than in private individuals (16%). Choosing to go through a network of professionals such as Spoticar is the guarantee of finding a used car which has undergone 100 rigorous checkpoints. From the bodywork to the engine, obviously including the electrical system, everything is carefully examined by its experts.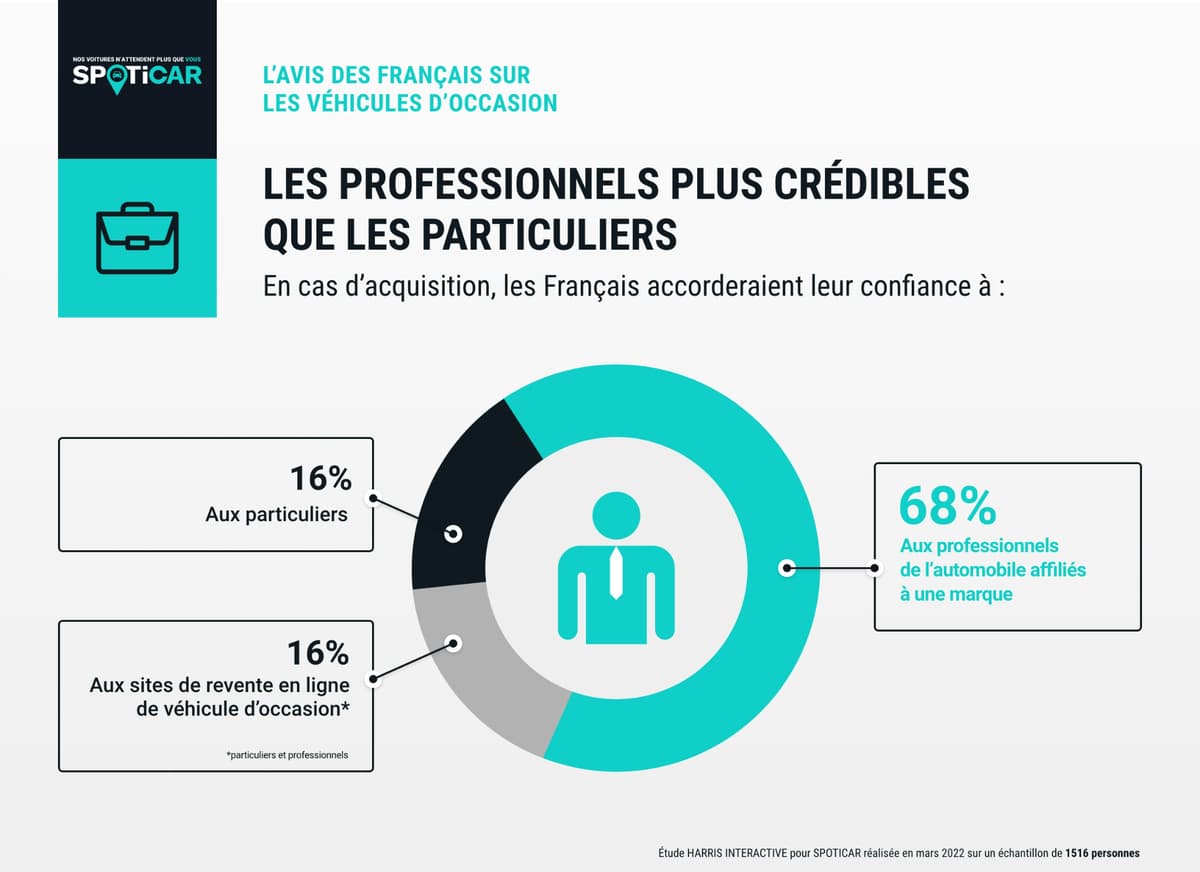 Satisfying shopping experience
For a large majority of French people, buying a used car is not synonymous with the unknown. Indeed, out of 5 motorists in France, 4 of them have already chosen the second-hand car. These same people would advise those around them to resort to this type of purchase. A result that is far from surprising when we know that 92% of these buyers say they are satisfied.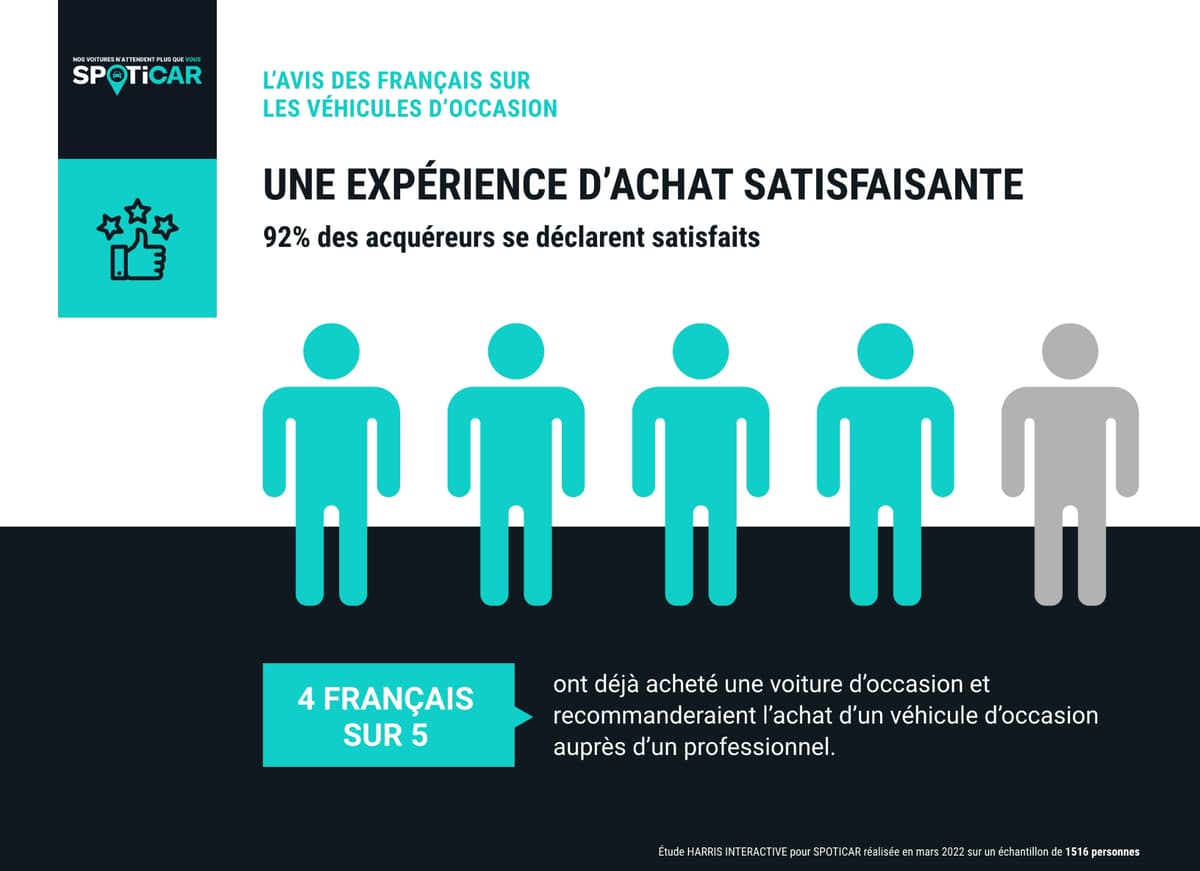 The profile of the owners
People who have already acquired a second-hand vehicle and those who wish to acquire one generally have an even more positive view, than the average, of the second-hand sector.
Generally speaking, these profiles are more expert on the subject since they tend to get more information and 72% believe, moreover, that it is easy to find out about vehicles in this market. It should also be noted that second-hand buyers have a fairly young profile (77% of them are under 35), that 61% of them are parents, 63% live in rural areas and that 67 % of used car buyers drive a diesel.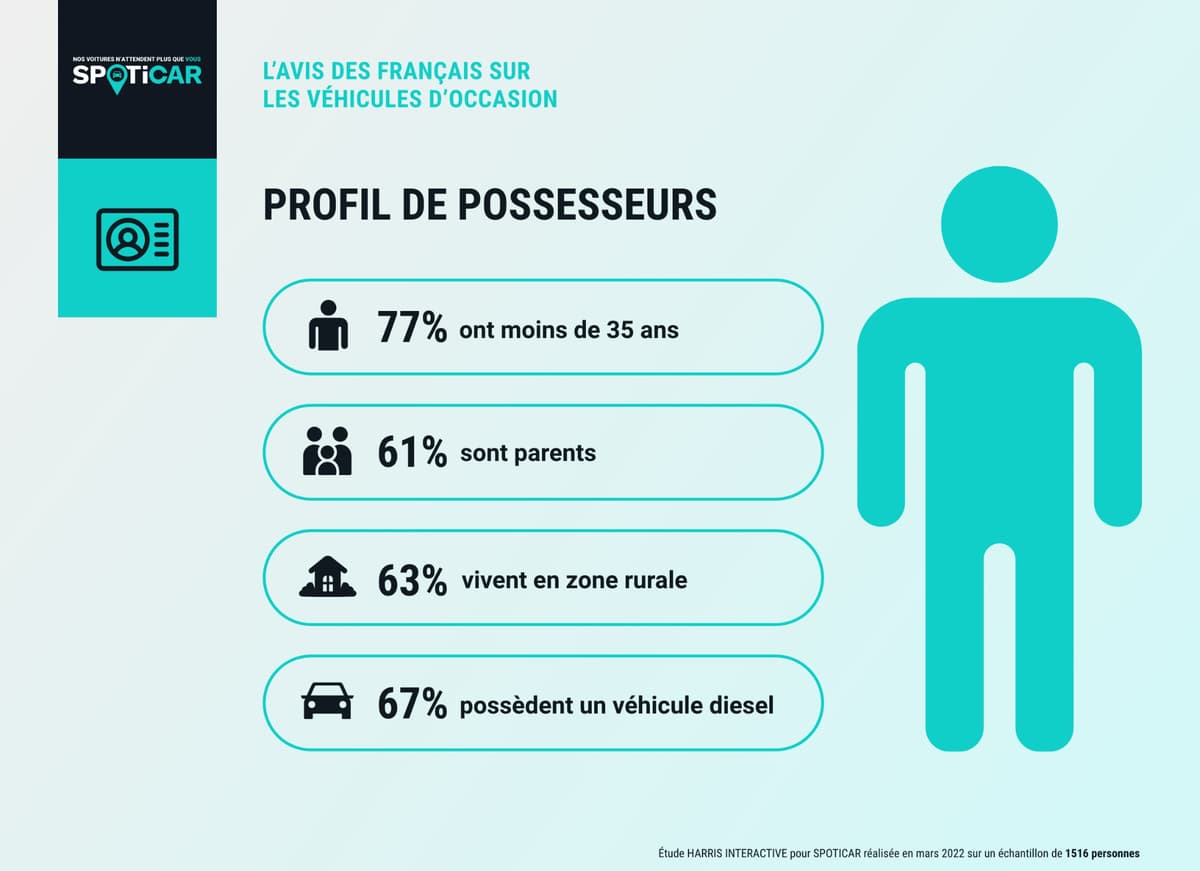 This content was produced in partnership with Spoticar. No member of the BFMTV editorial staff participated in the production of this content.
In partnership with Spoticar
#French #car #market #cars